About Your Reading
HOW TO PREPARE:
1. Pray. Pray for what you need in a reading. Prayers are always answered.
2. Expect nothing. This way you will not close off your mind to receiving the messages that come through me. Set no expectation of what you will hear. Be open to the blessings that come through.
3. Don't tell me any personal information. I need to 'hear' what I 'hear' from within me. You may speak to me when the reading is done.
4. Do validate what I say. If you do not understand the message, set it aside. Sometimes messages are not validated until after the reading.
5. Write down questions. I always make time for questions.
6. I am a firm believer in the power behind the numbers in birthdates. I might ask you for your birthdate only to use as a tool to meditate on. I want to make it clear that this is in no way related to astrology. It is simply the 'tool' I use. It began over 20 years ago when deceased loved ones would come through to say 'Happy Birthday' or to remind someone here of their death date, or anniversary date.
HOW I RECEIVE MESSAGES:
1. Through clairaudience, I am able to hear sounds, including the voices of spirits.
2. Through clairvoyance. I see pictures, sometimes in full video reception and other times like still pictures.
3. Through clairsentience. I feel or sense spiritual messages, emotions, feelings of deceased.
4. Through clairalience I smell things (like tobacco, perfume, flowers).
5. Through clairambience I sometimes taste things (like favorite foods).
6. Through claircognizance. This one is the biggest for me - it is a knowing. I just know things to be true.
WHAT I EXPECT IN A READING:
My intention is to always treat my psychic mediumship with respect and to use it with the highest of intentions. I desire to leave my clients with an inner peace and resolve knowing that through love it has been possible for you to connect with your loved ones who have crossed over.
I like to say I am in the business of healing hearts. That is my mission.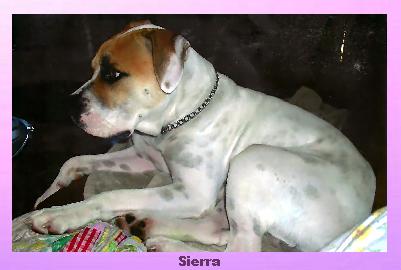 Sierra, always filled with
unconditional love.